Sept 22, 2009 we leave the USA.
Our beginnings:
This will be our first international trip together, other than Mexico and the Caribbean.
We have planned a 2.5 month trip through Asia, tentatively visiting Nepal, Thailand, Vietnam, Cambodia, and China. There has been talk of adding New Zealand to the end of the trip if the money doesn't run out (turns out it will take us until 2012 to get there, but we do indeed make it to NZ after all!).
Other than a 100-mile trek in the Himalayas, beaches in Thailand and Vietnam, ruins in Cambodia, and villages, valleys, and mountains in China, we have not planned much and have no idea where this trip shall take us.
The start of our travels, Nepal Day 1.
**********************
Back in the USA, San Fran to SanDiego, and the sum of our travels, Nov 19, 2009. 
Thanks to the international date line, and a whole lot of other confusing things I tend to forget about, we landed in San Francisco 4 hours earlier than we had taken off, making it 1pm on Thursday Nov 19, 2009.
Tired as all hell as I had not slept on the plane at all, we stumbled to baggage claim, gathered our things, and made it through customs pretty quickly. Then we had the joy of a 7 hour layover until our Southwest flight back to San Diego. We took turns napping and keeping watch over our things and each other, and the hours faded away in a drugged like stupor. Finally on our last flight of this epic 2 months, I passed out, exhausted, and awoke in San Diego.
I am still at a loss of words for describing our trip. We did so much, saw so many things, experienced events, emotions, and lives that are so drastically different from anything here at home that I just do not know how to compare it or explain it. It is weird to be home. Everyone speaks our language, its almost overwhelming to hang out with friends. It is overwhelming to be around people other than just each other. After 2 months of talking almost exclusively to each other (save for the few wonderful and amazing friends we made along the way), it is a serious culture shock to have multiple people speaking to us at the same time. And there is driving too. I want to honk my horn at everyone – when I am behind them, in front of them, passing them, next to them, it doesn't matter, always – because that is how they do it in many parts of Asia. It is friendly, a "hey, I'm here, just so you know". I do not think it would be so friendly here in the USA though.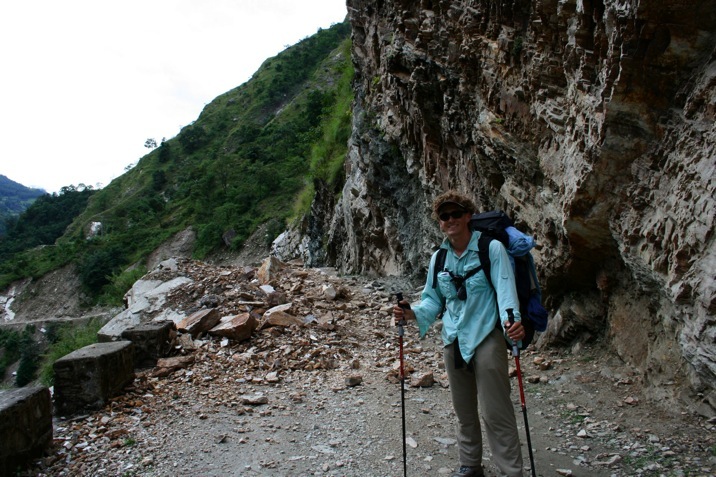 To sum up our travels:
Number of days away: 61
Most nights in the same bed: 2
Highest elevation: 17,775' (Nepal)
Number of flights taken: 19
Number of airlines: 13
Number of transportation modes taken: 11
Longest bus ride: 13 hours
Rainiest days: Jomson, Nepal – 11 inches of rain; Nha Trang, Vietnam – 13 inches of rain in 24 hours
Favorite place (Chez): Nepal trek
Favorite place (Griff): Shika guest house rooftop, Nepal
Funniest thing Chez saw: the older Chinese woman yelling at her husband that he is getting on the wrong bus
Funniest thing Griffin saw: the rat not making its leap from one rafter to the next in Chame, Nepal
Best food (Chez): Panang curry, Thailand
Best food (Griffin): sauteed fresh squid, Thailand and Vietnam
Cheapest meal: bus station pho, Hanoi, Vietnam ($0.60 for 2 meals)
Nicest hotel: Baad Haad Ngam Boutique Resort, Koh Samui, Thailand ($500+/night, plus spa treatments)
Sketchiest hotel: Beverly Hotel, Hong Kong ($4/per hour)
Snorkel trips: 5
Most relaxing place (Chez): Koh Samui, Thailand
Most relaxing place (Griffin): Koh Lanta, Thailand
Most stressful place: Garden Cozy Hostel, Chengdu, China – breakfast time
Most frequently quoted: Arrested Development; Flight of the Conchords (Business Time, Part-time Model)
Number of times we missed our friends and family: countless