After a nice long night sleep we strolled out to the beach area for breakfast.  It was yet another clear and beautiful day in the tropics.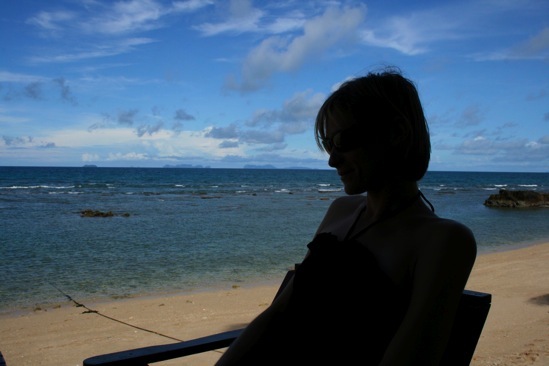 Soon we were on our way to Krabi via minivan, which would take 2 ferries each lasting less than 5 minutes, across to the mainland.  Apparently a bridge would be too sensible, so ferries run cars and trucks across the water all day long.  The ride was so short we did not even get out of the van.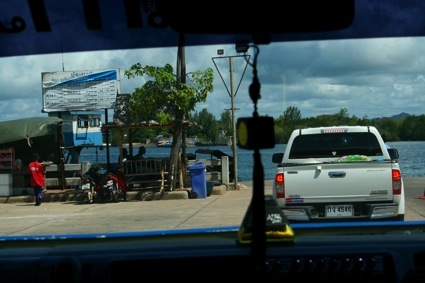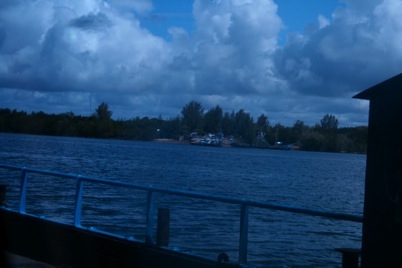 After another 2 hours in the van filled with re-circulating stale AC air, we arrived in Krabi town.  We were dropped off at a taxi stand where we had to get into another vehicle for the ride to our hotel, Ao Nang Orchid Resort.  It was a cheap ride, only 100B total, but took almost 30 minutes (we think our driver got lost, hence the U-turn on a busy street).  We got to our hotel just in time to walk the 50 feet from car to lobby in the rain, but we were graciously met by the hotel staff with an umbrella.
Our room here is rather nice, although it is not a private villa nor is this place on the beach – its okay, the awesome pool almost makes up for it.
For lunch our options seemed limited by the expensive prices we had not been accustomed to, but we were happy to find a place offering 25% off all food and a buy 2 get one free beer special.  Since we did not think we had time for Griff to have three beers, but wanted to take advantage, I decided I would help out, and actually ordered myself, and drank, a beer.  And I got rowdy with it.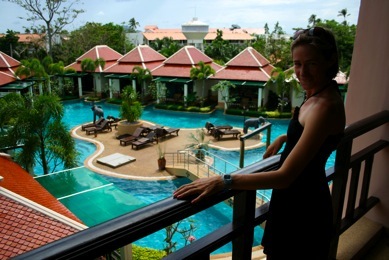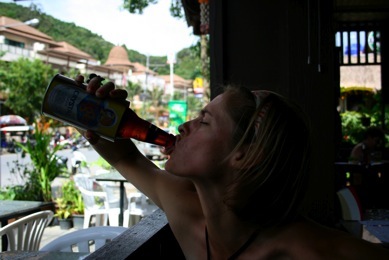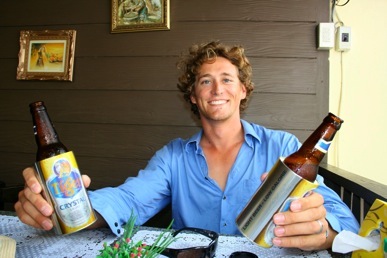 So Griff got his two beers, and we watched trucks drive by blasting advertisements in Thai (reminiscent of the planes that annoying fly overhead at our US beaches pulling banners and advertising nonsense)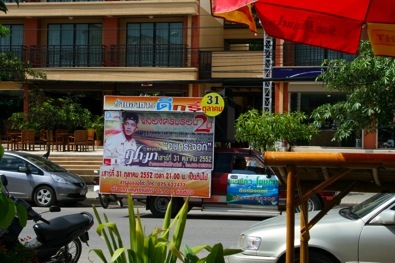 We took a long stroll along the beach and came across this large stone terrace built out into the water, but there was no one there and no structures.  From this terrace continued a rather nice sea wall about 20' from the water, but again, no grand structures to match (only a few thatched roof bungalows).  We speculated that maybe this was some fancy resort that had been washed away in the 2004 tsunami.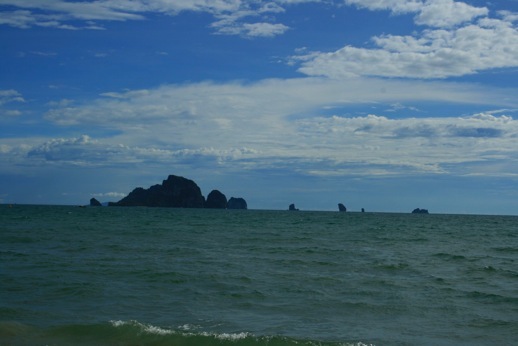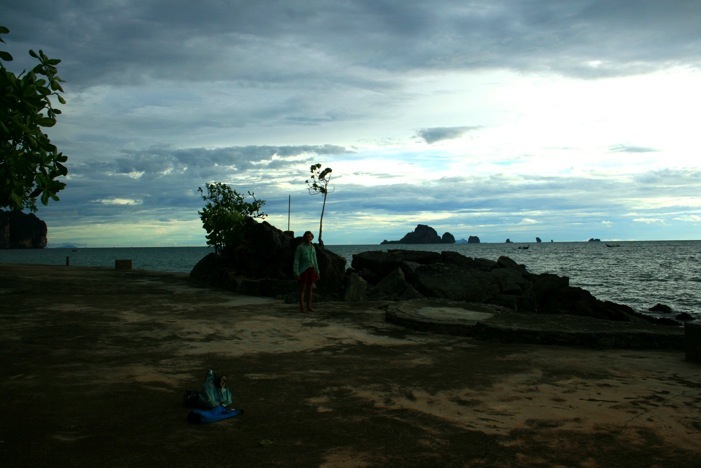 We waited for sunset on the beach, took some photos, and headed back to the hotel for a swim in the pool.  After walking around for a bit we found a decent place for dinner and even ordered desert – a banana split.  At the end of the meal, when we asked for the bill, the waiter asked Griffin if we would be needing separate checks.  Hmmm, maybe I should be wearing a wedding ring?  I suppose that since Griff wears his and I don't, things look suspicious.  But I don't really believe that is what the waiter was implying, was it?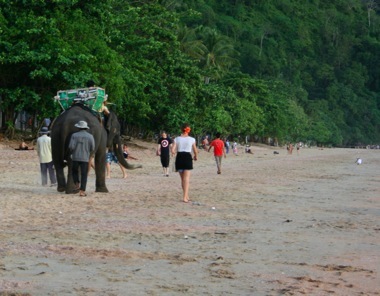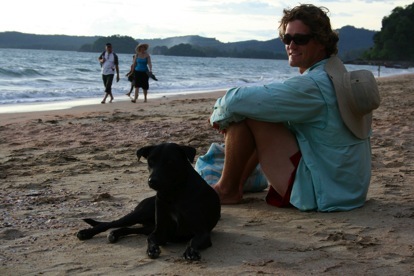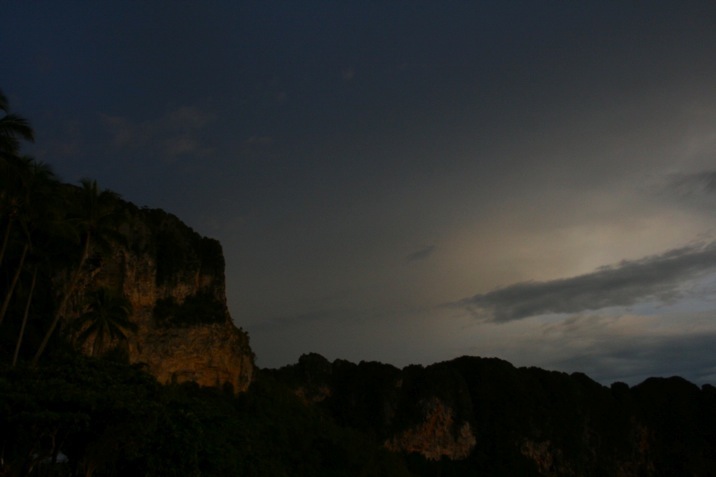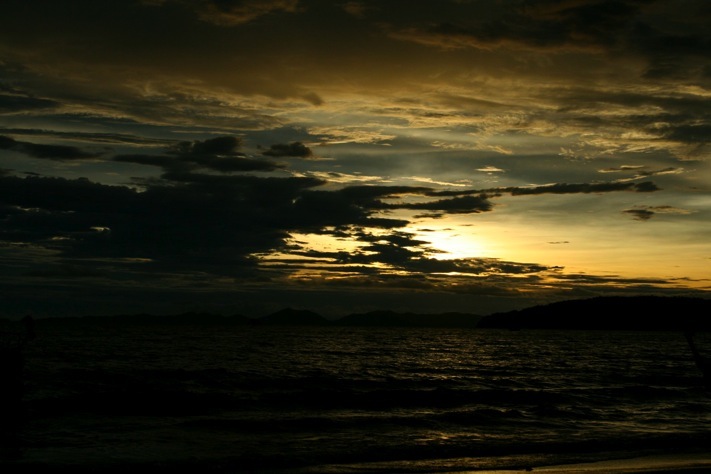 I also got back from dinner (Griff was buying beer) just in time to see something outrageous: Our hotel lobby has 15' ceilings.  I walk in just as one of the receptionists takes a rubber band and shoots it at the ceiling, hitting and successfully killing a gecko (which dot the walls and ceilings here).  The dead gecko falls to the ground, and he grabs it and throws it into the fish tank, and it is immediately devoured by the 6" fish.  It all happened so fast I almost didn't realize what was going on, but there was no mistaking it.  Wow.
In conclusion  we liked Krabi, but it is overpriced and if one has the choice, spend your time in Koh Lanta instead.