China Day 9: Bus back to Chengdu
As we had a couple days ago, we awoke early for breakfast. This time, we ate at the Sheraton buffet (same as the night before), despite breakfast being free at our current hotel. The food was so much better than the day before, and we were set straight for our long bus ride back to Chengdu.
Armed with a cup-o-noodle and seated at the back of the bus (near the only windows that can be opened), we were off at 8am! It was snowing, and had been all night, but it was barely sticking to the road, so no big deal. Well, 20 mins later we stop moving, and lots of arguing in Chinese and the driver and two others getting on and off the bus. After another 20 mins of this, we turn around and head back to the bus lot. Errr. Turns out the defroster on the windshield was not working and the driver was getting fogged. But, upon returning to the lot, we do not switch buses or anything logical, instead, we sit there, some people fuss around, and off we are again. An hour was wasted.
After a couple hours our bus began climbing up the pass we had descended a just two days ago. This time, however, the pass was covered in snow. We passed several stopped trucks and vehicles, realizing the road was no longer a road but rather a white snake winding up along the mountains. Soon our bus stopped too, and we thought, oh great. But, to our surprise, the bus had chains! And after a couple attempts, the chains were placed properly on the wheels and we were off again.
Along the road over the pass we saw several accidents, including an overturned truck in the river bed that was on fire. Good thing we had chains and our driver was cautious.
We soon returned to lower elevations and went back through all the cities where nothing but construction (again, the 2008 earthquake had leveled the cities) was happening.
Although we cannot remember exactly when it began on our trip home, its effects lasted for the rest of the ride: someone started throwing up, probably motion sickness but who knows. This poor guy was puking every 20 to 30 mins, and then, someone else started, and then, before long, 5 people on our bus were throwing up. It was a choir of puking. Our bus stank, but because it was cold outside, we got dirty looks every time we opened the window. Finally, I decided I did not care, had seen enough throw-up and loogies being spat into the aisle of the bus, put on my hat and gloves, and opened the damn window.
Around 8pm we arrived in Chengdu, got in a taxi (not as simple as it sounds but whatever), and made it back to our hostel for the night. Some warm food, internet, ping pong, and a 6" spider in the door jam completed our long day.
China Day 10: Chengdu, Chongqing, Hong Kong
As with our trip to Jiuzaighou, we had to get up early, check out, order breakfast at 7am, and rush to eat it as it did not appear until 7:30am, but our train was scheduled to leave at 8am. In fact, we were the first people to order breakfast, but over 15 people had been served before us! Even people who ordered after us. So, we just went to the kitchen entrance and grabbed two meals that looked like ours, and ran with them. Absolutely pissed off, we ran for the local bus to the train station. We got to the train station after crossing two very busy streets, and then realized our platform was waaaaay on the otherside of the terminal, and had to run yet again. We made the train with a minute to spare, but did not get a seat for the first hour. For the second hour, after the one and only stop between destinations, we were able to find seats.
The countryside was nice, and around 10am we arrived in Chongqing. This city, at the merge of the Yangtze and East Rivers, was not a quaint city: it is bigger than Manhattan. The island has over 4 million people, and the metro area has 33 million.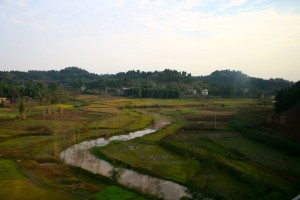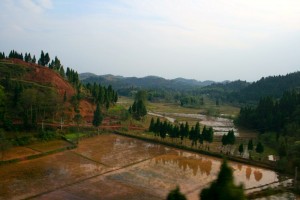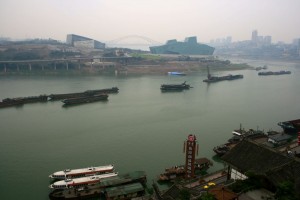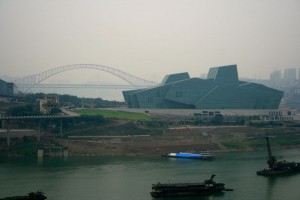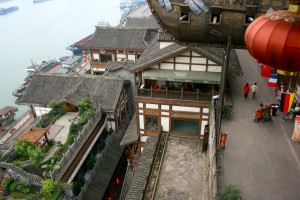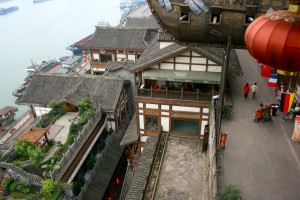 When we arrived in Chongqing we were at the train station, as mentioned, and thus needed to get a taxi to our hostel for the night. We had figured the city was not too big, so this should be no problem. Well, none of the taxi drivers spoke any English – not to worry, we had written down the address and name of our place, as well as a phone # to call in case the cabbie needed directions. Well, that proved to be just about impossible. Apparently these guys either don't read English characters (which was strange because later when we showed a Chinese girl working at Starbucks something in Chinese characters, she laughed and said she couldn't read characters, only alphabet), or were just very confused and didn't know where the address was. Considering the city is larger than Manhattan, it is completely possible they had never heard of the street.
The non-existent hostel?
Anyway, the taxi driver dropped us off in the touristy district of Chongqing, and we walked to Starbucks to use internet and try to figure out where we were. A nice man helped us out. He had traveled to China before and seemed to know where places were and how to get around. We found our hostel on the map, and decided it was close enough to walk to. As it was not quite noon, and may be too early to check in, we decided to look up online how to go about setting up our Yangtze River cruise.
Turns out, Yangtze River cruises were a bit more complicated than we had hoped. Either we could spend close to 1K each for a (long) 4 day/3 night cruise – no thanks – or we could string together a bus ride, a train ride, two hydrofoil trips, a night in a hotel, a mini-tour up the Little Three Gorges, another train ride, another night in a hotel, and a plane ride. Seeing that this trip, which would cost less and take only 2 days, was geared mostly for Chinese tourists, we were skeptical. It also was evident that we would have to go through the town of Wangzhou, and would be trying to do (again) the transfer from the train or bus station to the ferry docks and purchase tickets. Should we get confused or delayed and be stuck in Wangzhou, well, lets just say Lonely Planet didn't even mention that city at all.
I was tired of all this planning, and told Griff if he really wants to go he can plan it himself (for once). He thought about it while we tried to walk to our hostel. Turns out, its in a really sketchy part of the city, where everyone was staring at us, very uncomfortably. Maybe this hostel caters to Chinese toursists only? We were worried that if we found the hostel, we would not leave it at any time after dark. But, it did not matter, as we couldn't find the damn place.
Back to Hong Kong
So after 2 hours of walking around we returned to Starbucks. It was cold, blustery, and starting to rain. Griff said he did not want to plan the Yangtze River trip, so I purchased plane tickets back to Hong Kong and less than an hour later we were on our way to the airport.
A few hours after that, we were back in Shenzhen airport, on a bus to customs Lo Wu, and then on the MTR train back to Hong Kong. We arrived at 11pm, and our night had really only just begun.
We took a taxi to the "western" part of the city – Lan Kwai Fong – where all the trendy bars and restaurants are. We purchased an internet card from 7-11 and got online, trying to figure out where to stay. Since it was really late already, it seemed silly to spend a lot of money for only a few hours of sleep. Out of nowhere this guy asks us what we are looking for and if he can help, and then he offers to buy Griffin a beer. He was American, but had been in HK for several years so knew his way around. We chatted for a bit and he told us he knew of a really cheap place, about $30 for the night. We said sure, at this point, who cares, and got in a taxi with him.
Well, this guy sure was something. He took us to a hotel – no name advertized outside, just go in, hit the elevator button for floor 2, and there you have it. The rooms are charged by the hour, but we got the room until noon the next day for less than $20. Sketchy, and how this guy knew the lady who worked there so well we did not ask, but decent with a hot water shower and window that opened to fresh air. It was the perfect place for a few hours of sleep. Being now well after midnight, we headed out, found some amazing Thai food, and were back in bed by 2am.