We're on vacation
Except for the constant reminders of this blog, we have become completely unaware of what day of the week is. And even when we realize it is a Monday, or Friday, it means absolutely nothing.  This may not be all that unlike how I live my daily life in San Diego, but for Griffin, this means vacation, and a deeper relaxation than he has experienced in years.  In Nepal the day of the week meant nothing, but then we had a task at hand, we had ground to cover, places to be, things to do, every day.  Here, there is nothing but loli-gagging around and enjoying these peaceful islands.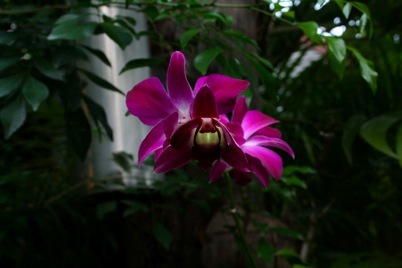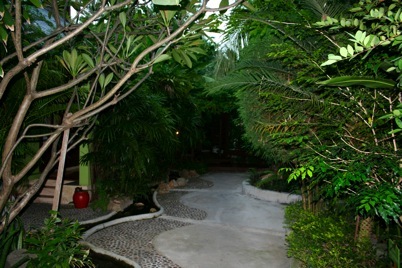 We caught the 9am ferry – again after a long walk with full packs to the pier from our hotel, the only exercise we seem to be getting – to Koh Samui.  Griffin had told me this was an all day ferry, that we leave at 9am and get into Koh Samui at 4:30pm.  We had decided on Koh Samui, the place to be pampered, to get a really nice expensive resort, and just see what the top end, 16,000B/night (appx $500 – don't worry we got a 'last minute deal') can do for you… but, realizing we would be getting to the island late, we did not want one of our "expensive" days to be cut short.  I decided to book not the night of the 19th, but rather the nights of the 20th and 21st at our Boutique Resort, and figured we would find a mid-range place to stay on the 19th after our late-afternoon arrival.
Well, sadly, this would be yet another one of Griffin's mean-well but really got confused and messed it all up (which I have not written about to date, except the canal tour, but at this point is really becoming rather comical) moments.  The ferry did not get in at 4:30, it got in at 11:30.  AM.  So yes, true, we now have all day on the island and in fact could have booked our two fancy nights for the 19th and 20th.  Not wanting to spend an unnecessary night on Koh Samui (3 full days just seemed too many when there are so many other islands to see!), we decided to try and change our reservation up by one day. This proved to be difficult.  We had made our reservations through an online booking company, not the hotel itself, and thus the hotel could not change our reservation.  We tried calling the help # but traffic was so loud it was difficult to hear from the pay phone.  So we decided to send an email hoping a reply would come back sooner than 24hrs.
Welcome to bungalow-heaven
At lunch we in fact got the reply, our reservation was changed, and we checked into Baad Haad Ngam Boutique Resort.  We had a superior bungalow, and let me say, it was amazing.  We had a beautiful room with oragami-like creatures made out of all the towels, with orchids and other flower parts for faces, eyes, and expressions.  Our luxurious bathroom was connected by a sliding door, and included a very large jacuzzi tub, a stall for the shower, and a separate stall for the toilet.  We even had his and hers sinks.  The pool with its infinity edge was spectacular, especially because it was directly over the ocean: our hotel was completely hemmed in by water during high tide, which came up and splashed gently against the 6' stone wall while we ate breakfast or swam in the pool.  At low tide, one could walk out for almost a quarter mile in ankle deep water with intermittent sand islands.  We asked for among the best Koh Samui had to offer, and it was delivered.    The last picture of the electric green walls would be the very private entrance to our villa.  The landscaping was a marvel as well, I loved it.  Even Griffin was thrilled, which is saying something because he typically does not like over-the-top-lavish indulgences.  But this could not be resisted.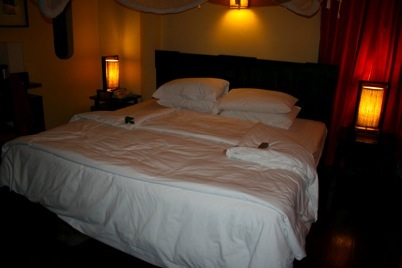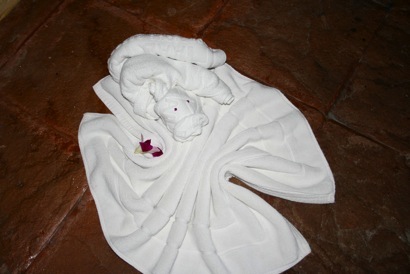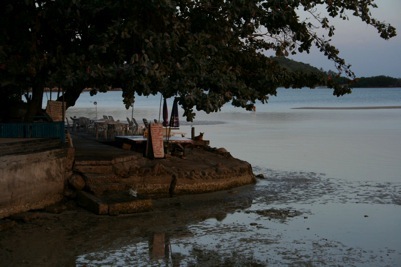 White sands and volleyball
We roamed the beach in the late afternoon, looking at shells, stopping for cocktails here and there, and even ran into a volleyball game.  We joined and had a blast.  The teams were about even, and, our favorite thing about this entire interaction of people, involved a local Thai gay couple.  One was on our team, the other opposing us.  The one on our team was wearing a tiny red speedo (see pic below) and was so fit he could have been a trapeze artist or gymnast.  And his personality was incredible.  Every time he served he did a different twirl, jump, twist, fancy maneuver.  And, what better, he was really good at volleyball!  Every time we scored he would run in a circle, or maybe prance?, getting sloppy high-fives from everyone on the team.  Being in his company was just incredible.  His energy and jovial spirits were contagious.
Dinner and puppies
We enjoyed a nice meal on the beach with a breeze and tons of cute puppies running around playing and begging for food.  We couldn't help but think of our dog-loving friend Elizabeth, and how if she were here she would want to take everyone of them home.  It was impossible to not slip them a little scrap of food here and there.
After dinner we walked to the town and did some shopping for flip flops, a floppy hat, and other fun items.  Upon returning to our room we had one of the best night sleeps we have had in a very long time.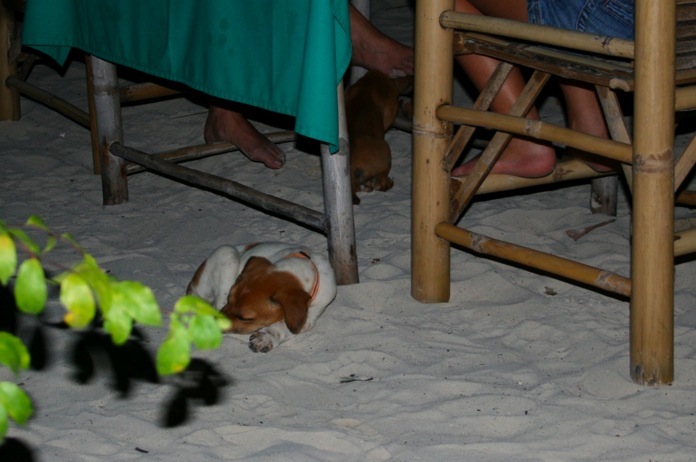 Tuesday, Oct 20th
Our second day on Koh Samui was partly spent in an internet cafe planning the next stop on our trip, but the major excitement was a spa day for Chez and sailing later in the afternoon.
Lady Spa Morning
Our hotel was known for its spa treatments, among other things, so I got a facial, a massage, and an exfoliating body scrub.  I was curious to compare a $30 massage here to the $10 massages I had gotten on the beach and at the salon on Koh Tao – consider it research, I just had to!  And yes, the more expensive massage was better.  The $10 massages are definitely great, but one complaint is the tables they have you lie face down on do not have holes for your face and head, so your neck tends to get very cramped and the shoulder, neck, and upper back massage are thus not as relaxing as one would like.  At my fancy spa the table indeed had a hole for my face and true relaxation was found.  The facial and body scrub were also quite relaxing.
Beach and "would you like a masssaaaaa??"
After my spa treatments Griffin and I met up (and oops, I can't do math and told him my treatment started at 10:30am, and was to be 2.5 hours, so to meet me back at the room no later than 12-noon. I meant 1pm, but I am a fool.  And he waited for an hour, and had nothing but a smile to greet me at 1pm despite my flagrant mishap – now that is a great husband).  We went for a long walk along the white sand beach starting at our hotel.   Just about ever couple minutes we were harassed by cute Thai ladies offering massages.  This was nothing new, the same thing had happened on Koh Tao (and will continue to happen for the rest of our time in the islands here).  However, instead of saying, "Would you like a massage?", these ladies did not really bother to annunciate.  They instead asked if we would like a "masssaaaa?" "you want a massssaaa?".  And it seemed to be a Koh Samui beach thing too, as it was not just one massage salon that referred to massages in this way.
We stopped in at a place for lunch and again were in the company of the cutest puppies ever.  We returned to our hotel for a shower and went back out for dinner.  And this might have been one of the most amazing nights ever:
Dinner and candle-lanterns
We found a nice place to eat where the tables and chairs were in the sand on the beach, about 15' from the water.  After ordering drinks and marveling at the view:

We saw something in the air, something yellow, floating up into the air.  Quickly we recognized as one of the many candle-powered floating lanterns that appear on the cover of our Lonely Planet guide, something we had been very perplexed about and really wanted to witness.   A minute later we saw two more floating up.  I immediately wanted to know where they were coming from, and as if my call was answered, a guy selling "trinkets and crap" walking down the beach was also selling these lanterns.  Of course we bought one.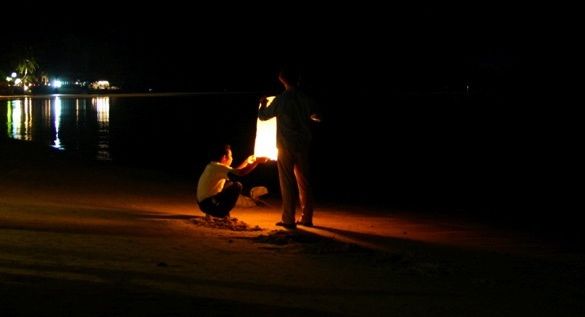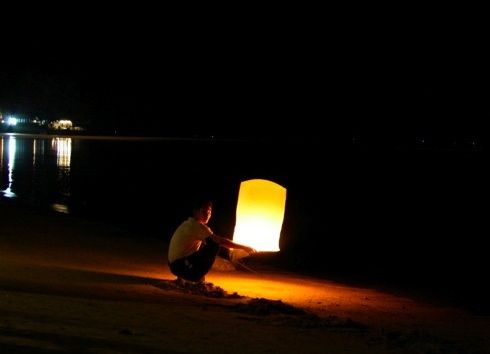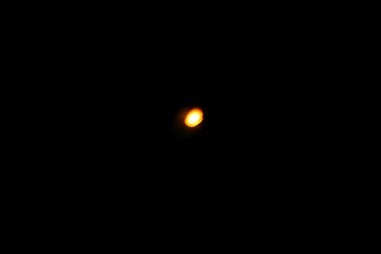 Throughout the night we witnessed several more of these lanterns going up 1000s of feet into the air and drifting out over the sea until they finally burned out.  It was as if we had our own private start to make a wish upon.
In all, it might have been one of the most romantic nights of our lives, and it was completely unplanned.  Isn't that how they are supposed to happen anyhow?