Back to Hanoi
Our Halloween day started early, doing our Hanoi-Catba trip in reverse (bus, ferry, minibus, bus), back to the Hanoi station. We had that great pho again for less than $1 each, and grabbed a taxi to the airport abut 45mins away. We knew not to grab a taxi without a meter unless you clearly agree on a price before getting in (and apparently even sometimes this is confusing), so we got a taxi with a meter. The city has a set limit of 220,000D from anywhere in Hanoi to the airport, so when the meter went over 700,000D (over US $40), we started to get worried, and agitated. Once the guy dropped us off we argued with him for 15 minutes about the price. We pointed to the sticker, in his own taxi, that stated the limit, and I went inside to ask a few people at the info desks how much a taxi should be, and they all confirmed 250,000D, maximum. They laughed when I said is 800,000D too high? The poor taxi guy looked like we were ruining his day, but we were not going to pay almost 4x the amount we should for a taxi ride. We ended up giving him 400,000D and walked away.
Regardless, the ride to the airport included many interesting things being carried on motorbikes: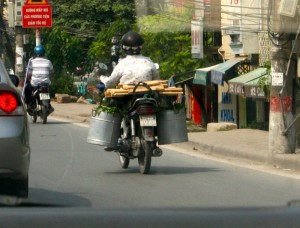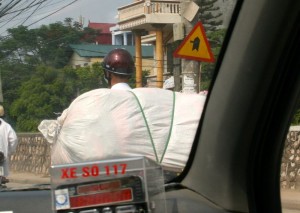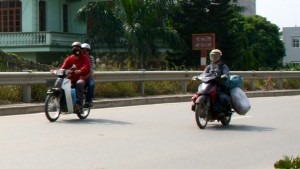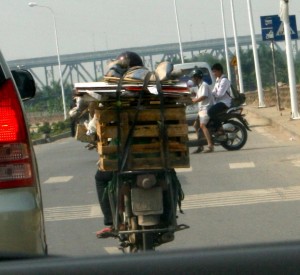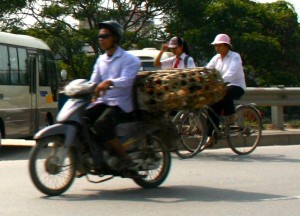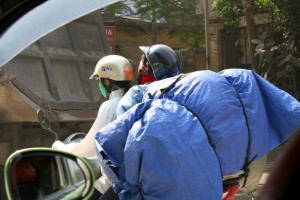 We waited for a bit at the airport, I went a bit nuts and bought some candies and chocolates (and yep, they had nuts in them too), and did some botany work while Griff read. True to our prior observations, the Vietnamese are very efficient people. As we have been taking so many flights lately, we tend to hang back until all the other people have gone through the gate check, and then go down the gang plank to get on the plane, and usually still end up waiting in line for our seats. Well, not here. We barely waited at all, and were on the heels of the passengers in front of us. But, upon getting to the plane, everyone was already seated and ready to go! The whole process had taken less than 10 minutes for over 100 passengers to get on, sit down, and pull away from the gate.
Nha Trang
We had to stay for two nights in Nha Trang because one, our late arrival tonight meant if we wanted one full day there we'd need to stay another night, and two, Griff needs his third rabies shot on Nov 2 and we know the clinic there has it. So, we hope to get a bus out of Nha Trang on the 2nd after his shot. But otherwise, we were not all that excited about Nha Trang, being a beach city, and we were already missing the quiet calm of Thailand's beaches.
We got to Nha Trang and took a 30 minute cab ride over winding hilly roads and down into yes, a city. And for a long time we drove in a city, past all kinds of tall hotels, lights, traffic, and chaos. Our hotel, The Light Hotel, is really nice, and they upgraded us to a suite for free. We are on the 8th floor and have great views of the ocean. We planned a snorkel/boat trip to some of the outlying islands for the next day (only US$9 each), and headed across the street for a Halloween dinner.
Halloween
The restaurant wanted a cover – $3 each. This seemed odd. They said it was because of the party they were hosting tonight. Flashbacks of the Koh Phi Phi bars advertising huge parties with body painting, live music, games, etc, but ended up empty at 11pm, came into our heads. We couldn't really see the back area of the place, but it sounded quiet and dull. But, I wanted to eat there, and it was only 7pm. So we paid and were taken to the back
Well, to our surprise, almost every table was taken around the pool, near the beach bungalows, and under the thatched roof area. We got one of the only tables left. And there were kids everywhere. Turns out the $3 was to pay for a pumpkin carving, live dancers/shows, and other Halloween excitement. Aimed at little kids it wasn't quite the downtown bar scene of San Diego, but this was a welcome relief.
I got involved in the pumpkin carving, and we ate dinner and were highly entertained for the night. One kid fell off the top patio, through the bushes, and landed right behind my chair. He looked for a second as if he would cry, and as we smiled at him and everyone was asking if he was okay, he started laughing. In all, a great night.