After sleeping like a bunch of logs for the night, we rolled out of bed at 9am, only to find free breakfast had already ended. Sigh. We walked around a bit until we found a place serving omelets and other breakfast like foods.
We are still finding that the food in this country is not all that cheap, even the local dishes. Seems these people have figured out tourists have the money and will pay it, and since we don't speak the local language and don't feel safe in some areas, roaming around to a truly cheap and authentic place just isn't that appealing. Oh well!
We went back to our hotel to ask about renting a kayak to paddle around amongst the 2000 islands in Halong Bay. Turns out, no one kayaks from our harbor, you need to go to the other area, and then take a boat to a place where they have kayaks. Oh no, all day trips leave at 8am, and half day trips do too. So, we decided to rent a "private boat", that would take us to where we could kayak.
Having NO idea what we signed up for, we went for it.
Boat ride amongst the islands
We got into our taxi – well, on it – two motorbikes, one for each of us, plus driver, took us up and over a divide between our bay and another bay, and we boarded a boat. Turns out, they really meant private boat. We had no idea what we were doing, where we were going, if there'd really be kayaking, who knew. It was all going to be a surprise.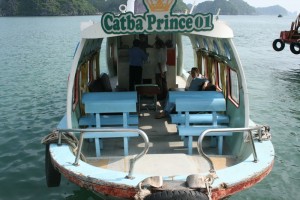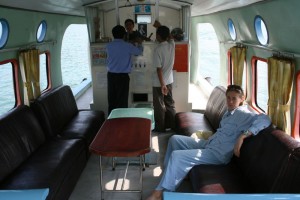 Either way, we had a private boat, and the islands were beautiful. We passed by many floating villages, which we guessed made the most sense, living in a place of islands of steep slopes, that the protected waters would be easier to make a life on than land.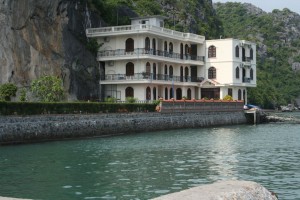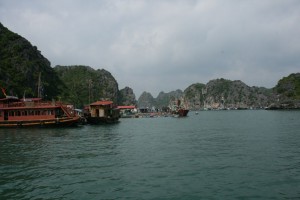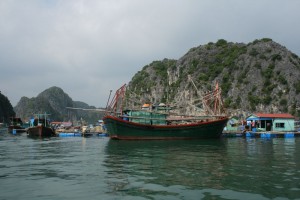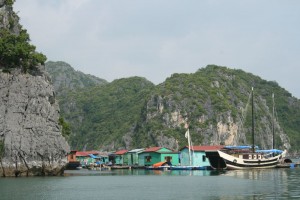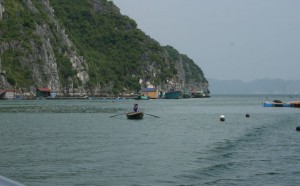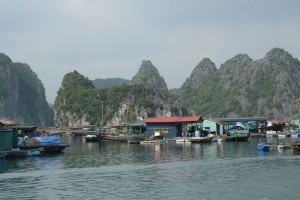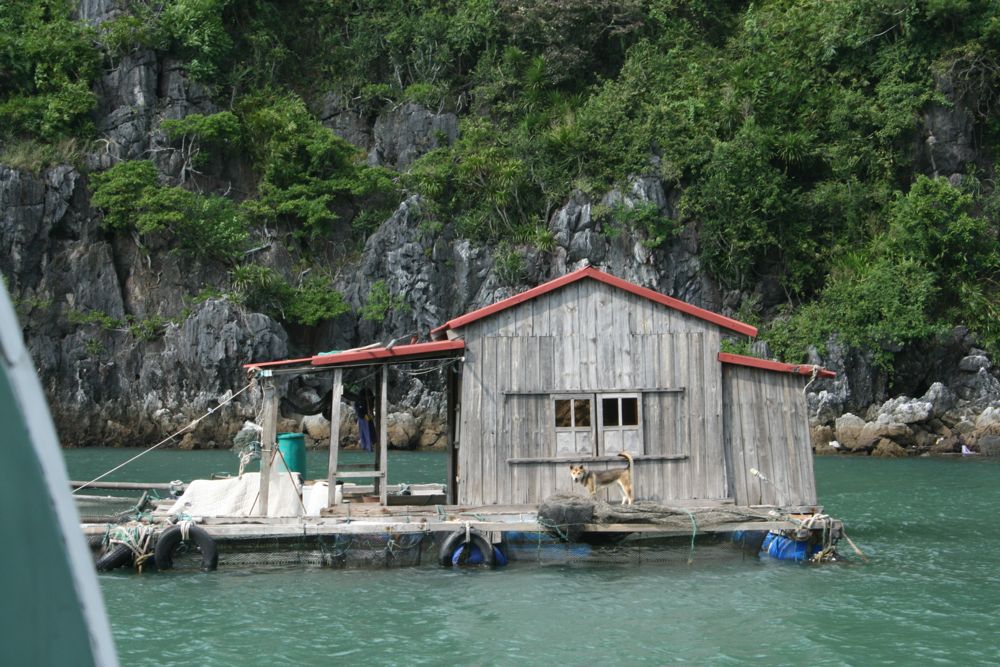 After motoring around the labyrinth of islands for over an hour, we came to a floating house with a cute and energetic dog and grinning old man. We docked along side, and sure enough, there were about 20 kayaks. We dropped into one of them and were off for an hour, kayaking around. The water in the bay of islands was somewhat dirty, so no great views to the sea floor, but the way the islands rise straight out of the sea and are uninhabited was cool enough.
We then got taken to another "Monkey Island". Since we had seen the little buggars on Koh Phi Phi in Thailand we decided to stay away, and enjoyed cooling off in the water and walking the sandy beach.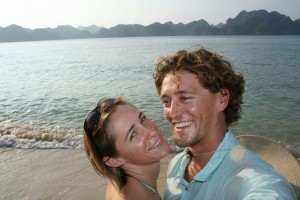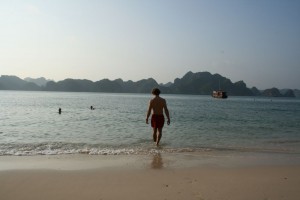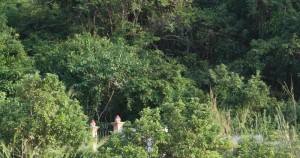 In all, our boat ride was enjoyable and relaxing. It felt good to just be outside for a while. This whole not getting any exercise is really starting to get to us, especially me. I cannot sit still for too long or I'll implode.
Dinner and the rooftop bar
We explored our hotel up to the rooftop bar, which was pretty damn cool. We enjoyed some drinks at sunset and then went in search of dinner. We wanted to try an "authentic place", so we settled on one that did not have an English menu (or at least what was translated was not all that helpful). I chose some chicken dish and Griff something else. Well, my dish was not at all good, and it wasn't cheap either. It cost be $4, and consisted of a measly helping of peanuts, onions, and chicken scraps. But these scraps were not really meat, they were mostly bone and inedible. After that, I had had enough, and we went off to find another place.
We came across an even more authentic place adversing "pho". It was packed with locals, who were, by the way, watching indoor soccer on TV. This place was great. For $1 I had some yummy chicken pho.  
After our two meals we went back to our hotel rooftop bar, where we split a terrible bottle of Russian sparkling wine (red wine with carbonation), and played foosball. After 4 intense games and a couple mango smoothies to wash down the awful sparkling wine, it was bed time.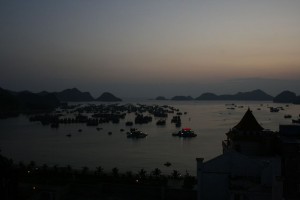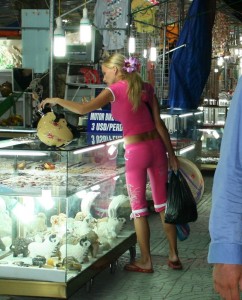 Check out the pink jumpsuit, no joke, this woman was serious. And it was not Halloween….