We arrived in Vietnam with little excitement, except the old woman getting onto the plane who, once her roller suitcase had to be turn on its side and carried, could not lift her heavy bag and wrestled with it for about 10 minutes, causing a complete back up of people trying to get seated. Finally Griffin and a flight attendant picked up the bag for her – which resulted in a bunch of squabbling in Vietnamese – and threw it into the overhead.
The short flight landed us just after dark, we got our bags, and met our driver who took us to the Rising Dragon Hotel in Hanoi, nestled in the noisy Old Quarter. By the time we checked in and started to search for dinner it was already after 10pm. The hotel staff told us all restaurants had closed, but there was a authentic hole in the wall right down the street. We went there and for $4 we had pho, beer, and water. Pretty good!
Our hotel room smelled a bit musty, and the toilet gargled every now and then, but the room had only be US$25 so we were pleased.  
Oct 28th, 2009
Rabies vaccine
So, for those who read the Monkey Beach story and aftermath, we had decided that Griffin's tiny monkey bite had warrented rabies vaccinations, just to be safe. Today was the day for his second shot, and we had to find a place to do this. We walked to one hospital but they said we should go to the other place where they treat tourists, so we grabbed a cab and $4 later we were there. After some confusion and an hour of shuffling from room to room, Griff got his shot and we were on with our day.
Hanoi, Vietnam, and the country of surprises
If Nepal was awe-inspiring around every corner (from 25,000'+ peaks to people farming at 12,000'), and Thailand incredibly relaxing and easy-going, then Vietnam is the place of endless surprises.
Take, for instance, intersections. There are hundreds of people on motorbikes, and several on pedal bicycles, and cars. They all approach an intersection with a stop sign going between 10 and 30mph. Expecting someone to stop, we wait for our turn to cross. Well, stop signs seem to be there for decoration, as well as most traffic lights. Instead of stopping, the traffic just keeps moving, dodging each other at what are pretty high speeds for this situation. The intersection looks like utter chaos to us, a mess of cars, bikes, and people, all skirting around each other. And this is just how it is, no big deal, sure. And to cross the street, you just have to step out into traffic, walk slowly, and assume everyone is paying attention, will see you, and move out of your way.
As it will turn out, there are many more surprises to come as our travels in this country continue.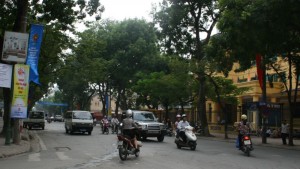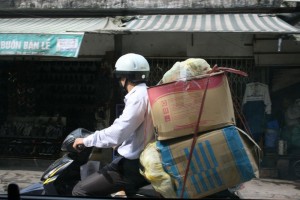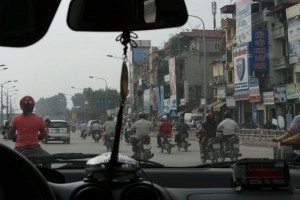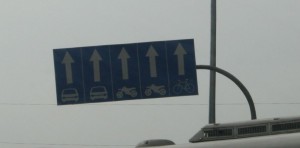 To Cat-ba Island
We heard that the best thing to see in the north of Vietnam along the coast was the island chain of Halong Bay, and particularly, the place to stay, Cat-ba Island. So, we booked ourselves a $9 ride from Hanoi to Cat-ba, having no idea what we were in for.
Our bus left the station around 1pm, and we had a somewhat nerve racking 2 hour drive to some midstation along the way. While on the highway the driver constantly laid on his horn (seems to be the thing to do to let anyone know you are coming up behind them, so the roads are just a cacophony of horns, bleeps, and other interesting noises), and slammed on the brakes many times. I was happy there was traffic and we were not able to go more than 40mph the whole way.
We offloaded at the midstation and the bus left. No one bothered to tell us what was going on, so we just waited in curiosity of what would happen next. Soon enough a smaller bus pulled up, and we were shuffled aboard. A couple more hours and we arrived at the ferry docks, exited the bus, and no sooner than we had stepped off the dock onto the boat was it unroping and pulling away.
I must say, so far, the Vietnamese are the most efficient and quick moving people we've ever encountered – even more noticeably in large numbers (when many other groups of people fail at staying organized and quick).
The ferry ride was pretty neat, and it was nice to have some fresh air outside the congested city.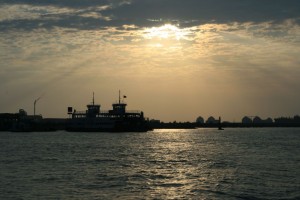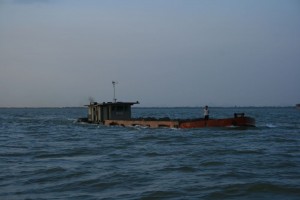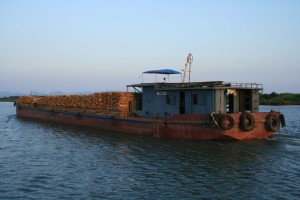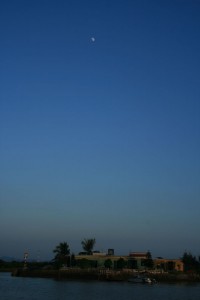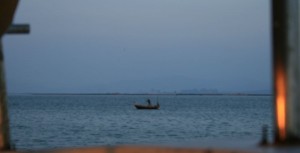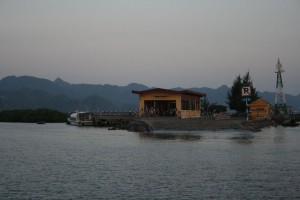 Dinner on Cat-ba Island and the floating restaurant 
Once we got off the ferry we were shuffled to yet again another bus for about a 30 min ride on winding roads up and over the island to the other side. The drive was beautiful as the sun set, and the air much cooler as we climbed higher in elevation.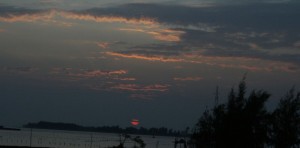 Finally we arrived at our hotel, the Princes something (spelled with only one s its true). This hotel was very nice, and only $30 a night. We had a room that overlooked the ocean (which was across the street, and it was a harbor), and the hotel had a rooftop bar that we would enjoy the next night.
For dinner we took a silly water taxi to an even sillier floating restaurant. It was for sure a tourist trap, but we had to try it. The prices were pretty high, but the food was solid and hearty.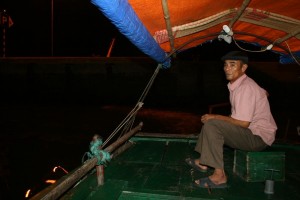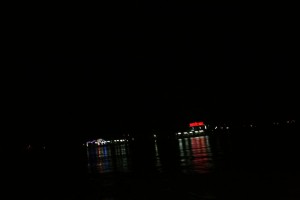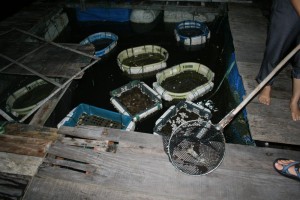 After dinner at the floater, we walked the town a bit. Not feeling as safe as we did in Thailand, we stayed where the other tourists were. We found a happening bar/restaurant and had a drink and a dessert crepe. The cute Vietnamese waitress told me Griffin was "very beautiful you very lucky". I agreed, we paid the bill, and headed back to the hotel. It had been a long day, and we were thrilled to hit a soft mattress, maybe the best since our stay at the classy boutique in Koh Samui.